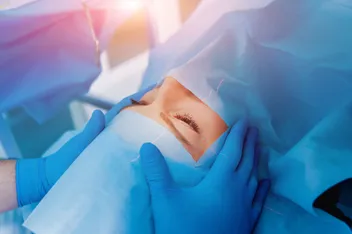 All-Laser iLASIK Options at Focus Vision Optometry
Experience the best choice available in LASIK accuracy, safety, recovery and comfort.
Premium Accuracy
iLASIK is the most advanced LASIK treatment available. iDesign technology uses advanced corneal wavescans to provide visual correction that is 25x more accurate than conventional eyeglasses or contact lenses. This LASIK technology corrects 1,200 correction points on each cornea, and is the only technology approved by NASA and for use on US military personnel.
Premium Safety
Microscopic iris registration maps tiny details of each iris muscle in your eye to provide automatic real-time guidance of the custom laser treatment, eliminating concerns about eye movement during surgery. IntraLase delivers micron-level accuracy that give our surgeons ultimate control during your procedure and shallower, safer flap thickness compared to alternative flap methods. All-laser iLASIK is 100% blade free.
Is All-Laser iLASIK right for me?
Most people meeting general age and health requirements are candidates for iLASIK.
Even if you've been turned down for laser vision correction in the past, you may be able to have All-Laser iLASIK to correct your mild to severe nearsightedness, farsightedness, and astigmatism.
iLASIK consultations at Focus Vision Optometry are free, so you can easily determine if you're a safe candidate for treatment.
With same-day 2-eye correction, no stitches or patches, <24 hour downtime, and conveniently local pre- and post-op visits, this procedure is easy to fit into your busy lifestyle.
iLASIK payment options make custom vision correction instantly affordable- ask about Care Credit 24 month terms, no interest.
Most patients are eligible for free Lifetime Commitment, to protect the longevity of your vision correction.
Use our online appointment request to schedule your FREE Lasik consultation.